Steven E. Fitch MBA is a millennial, social media flack, blogger, and plain old sport junkie...

Mr. Fitch is a rising star in "Amateur Sports" in the Chicagoland area including photography, journalism, as well as broadcasting. Mixing his knowledge of sports with an honest, hip and down-to-earth point of view, he engages with fans and athletes sustaining a very wide-range interaction of conversation through Amateur Sports News Network, an online site that highlights student-athletes achievements, on and off the field of play, where he presides as Editor-in-Chief. While his style is considered passionate, but slightly sarcastic, he still remains compelling and entertaining, as well as thought-provoking.

As a native of Chicago, he's a graduate of Chicago State University with a Bachelor of Science degree in Computer Science. A few years later, he returned back to school (Keller Graduate School of Management), where he received his Masters of Business Administration with a concentration in eCommerce and Project Management. After completion of graduate school, Steve pursued several entrepreneur adventures, as well as wrote a book, Digital Divide: An Equation Needing A Solution.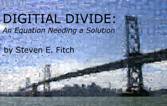 Prior to starting the company, Mr. Fitch began his professional career in information technologies and business with Arthur Andersen & Company, where he served as Database Administrator. His responsibilities consisted of supporting and implementing various database applications, documentation and user interface. Shortly afterwards, he joined the City of Chicago, Department of the Budget ,where he was responsible for designing, implementing/upgrading, documenting and supporting the computer equipment, as well as designing and prepared training tools that are still in use today. Most recently, he served as Director of Information Technology (Midwest - Hardware) for an investment firm in the Chicagoland area. In this capacity, he reports direct to the CIO of the parent company, as well as to an Executive Council made up of his peers. His responsibility consist of current hardware support, design, implementation, business-to-business connectivity, firm wide communication, future development of internal/external proprietary applications, and supervises the Technical Support staff in Chicago, Milwaukee, New York and St. Louis.
In my spare time, I enjoy traveling, writing, reading and all sports, especially golf. . .
Nowadays, you can find Mr. Fitch covering youth & high school sports in the Chicagoland area, as well as local college teams including DePaul, Chicago State, University of Illinois, Northwestern, etc…

In addition, he produces at least four articles a week for AmateurSports365.com on a wide-array of topics.

Lastly, he is co-producers and co-host of a weekly sports talk podcast show entitled "

In the Kennel

" which provides a unique perspective on sports, news, and entertainment. The show can be heard each and every Saturday morning at 9:00am EST by visiting

KennelSportsTalk.com

.