xChange is a FREE quarterly electronic newsletter (e-newsletter), designed and prepared with individuals and small businesses in mind with every keystroke. The e-newsletter includes topics such as: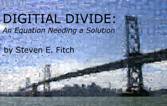 In addition, we have develop a blog area dedicated for our subscriber base to further discuss their thoughts and opinions on topics from our publication.
Blog is short for Web log. I recognized that blogging is a phenomenon that cannot be ignored, or postpone or delegated. Many mainstream media companies will have to address this phenomenon in order to raise the bar of electronic acceptance as they have with e-mail alerts, interactive web sites (links), text messaging, etc... Click here for more details.
Subscriptions
Our subscription base has already grown to over a hundred readers.
To subscribe or change your e-mail address, just use this simple form. To unsubscribe, please send us an e-mail and we will remove you from our newsletter - click here.


To view current edition, click here.
NOTE: All e-mail (forms) are subject to print, including your name. If you don't want me to publish your e-mail, or if you would like to remain anonymous, just let me know.
| | | |
| --- | --- | --- |
| Headline News | Sports News | Technology News |
| | | |