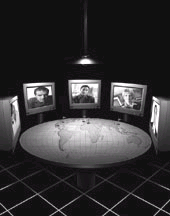 Is there an easy way to setup for videoconferencing?
In a word, Yes - absolutely!!! I guess that's two words
There are several ways to establish a videoconference using a laptop. You can setup a video conference suing FREE tools such as Instant Messaging services like Yahoo! Messenger™, America Online Messaging™ (AIM), and/or MSN Messenger™. In addition, Microsoft™ has a product entitled NetMeeting which is designed to conduct videoconferencing for FREE.
Main ingredients required are as follows:
Microsoft™ Windows-based operating system
web camera (or digital camera with video capabilities)
microphone and speakers
*high-speed connection (i.e., cable modem and/or DSL)
a person(s) on the other end with similar setup
With the above ingredients, you can hold a face-to-face meeting using the above mentioned products almost anywhere in the world as if you are sitting right next to a person.
There are many commercial Web conferencing services available that will enable you to set up a Web-based teleconference from the road as easily as you could from your office. Having a Web video camera attached to your notebook (laptop) can offer many advantages. For example, if you're setting up off-site meeting, you may want to send live video of the meeting room space back to your office for discussion. Or, if you're at a customer location, you may want to set up a face-to-face conference between your product developer and a customer.
Many web Conferencing applications give you a reliable and affordable way to share software applications, view presentations, or anything running on your PC with others in online meetings. In this example, viewers can witness the clarity of what you display on your desktop. Alternatively, you can pass control of the meeting and see what they display on their PC (i.e., to run a live-demonstration).

Things to consider in order to make a Web conferencing decision easy:
Simple to use. No other web conferencing system is as easy to learn and use.
Fast. Viewers immediately see what you display on your PC.
Featured to have. Share a single application or your full desktop, allow others to share their screen, show presentation slides, remote control another PC, record for playback, chat and polling, url sharing and more.
Portable. It's purely web based conferencing so you can use it from any computer.
Reliable. Works through all firewalls. 100% server uptime over the last year.
Clean Interface. The ability to see a clear, concise application in production (or demonstration) as if you are sitting at the developers (manufacturers) office (desktop).
Live Support. If you or your attendees have a problem, help is a phone call away. Many other services do not offer live support.

In this case, a picture (Web conference) can and will illustrate that it's worth is more than a thousand words.
Below is a short list of major Web conference players. Feel free to visit for further information by clicking on the name(s) listed:
* high-speed connection is the preferred way of using video conferencing since you are transmitted thousands of frames across a single connection, but a dial-up can work. The issue is, dial-up is a lot slower, thus, the frames will be transmitted with a lengthy delay.
NOTE: None of these suggestions and/or product names where endorsed by the manufacturer listed above. The opinion expressed here is an independent suggestion to handling the above mentioned question.